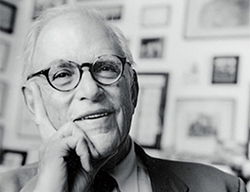 Paul was one of the firm's founders and a trailblazer in the area of employment law.
Paul grew up in Cincinnati. He lived in the tight-knit neighborhood of North Avondale, where he formed lifelong friendships, and graduated from Walnut Hills High School. He then attended college at Harvard University, where he was a member of the varsity tennis and swimming teams and graduated Phi Beta Kappa in 1951. After college he joined the Central Intelligence Agency and served in the US Army as a Lieutenant.
Following in his brother Charles's footsteps, Paul began his legal career at Harvard Law School, graduating in 1958. He initially started practicing law in Boston but soon returned to Cincinnati. In 1976, with his childhood friend and Harvard classmate, Marvin Kraus, Paul founded the law firm of Tobias & Kraus, which decades later became Tobias, Torchia & Simon.
Paul was a legal pioneer. After the firm was founded, he developed a specialty in the area of labor and employment law, focusing on representing individual employees. Paul blazed a new path, as this field of law was dominated at the time by management and union lawyers. He was a fierce advocate for employees and litigated numerous wrongful discharge and discrimination claims. He was instrumental in developing this area of the law with the unabashed goal of degrading and undermining the inequities of the "employment-at-will" doctrine.
Paul also was a visionary. He recognized that his fellow plaintiffs' attorneys, scattered throughout the country, needed a nationwide organization to support their cause. In 1985, he founded the Plaintiffs' Employment Lawyers Association, which later became the National Employment Lawyers Association (NELA). Paul served as its first executive director, chair, and editor of its newsletter, the Employee Advocate, all of which he did from his Cincinnati law office with the help of his longtime office manager, Patty Losacker. Over the ensuing years NELA continued to grow, with 4000 members nationwide including NELA's state and local affiliates. Paul also co-founded the National Employee Rights Institute, which later became Workplace Fairness, an organization dedicated to providing legal resources to employees. Paul was a prolific writer and was the author of a three-volume work, "Litigating Wrongful Discharge Claims," and co-author of "Job Rights and Survival Strategies — A Handbook for Terminated Employees," among other legal articles and works too numerous to name.
Paul's enthusiasm for the law extended well beyond our nation's borders. He organized and led groups of NELA lawyers on cultural explorations of foreign legal systems in far-off destinations such as China, South Africa, and Argentina as well as numerous European countries.
Notwithstanding his many accomplishments as a lawyer, Paul will be most remembered for his warmth, sense of humor, selflessness, and generosity of spirit. He was a mentor to nearly every lawyer who crossed his path. Paul was deeply admired and respected by attorneys who knew him, whether as a fellow plaintiffs' attorney or adversary in the courtroom. He was beloved by his clients.
After a wonderful career of more than 50 years of practicing law, Paul retired in 2018.
NELA's local chapter, which of course Paul founded, now carries his name — the "Cincinnati Employment Lawyers Association, Paul Tobias Chapter" — and with it his enduring legacy.