TT&S Weekly (7/27/15)
Topic of the Week
Fill the Void: Getting Reengaged At Work
Take control.
Find allies.
Maintain perspective.
Plan B.
With 70% of the workforce not engaged at work, last time I reviewed Gallup's twelve questions that can tell you if you're burned out. This time, I'll focus on strategies to get you in the lucky 30% of those people who remain engaged at work. Which reminds me of Mrs. Linda Wolfe, the Guinness record holder for most marriages. She's had someone ask for her hand 23 times, including three times to the same guy. She proudly said that she's still looking for Mr. 24.
So how does Mrs. Wolfe stay almost perpetually engaged? That's for a relationship expert to review, but I can suggest some strategies to keep you more engaged at work. This is important because Gallup found that companies who have engaged workers are more productive, more profitable and have higher customer satisfaction. Companies with workers who aren't engaged have more turnover, more accidents and more absenteeism. Here are four ways to say "I do" all over again at work.
Take control. According to my inbox, many people are cynical about their company. But I'm always struck by how this attitude doesn't often translate into taking more control of your career. We all need an exit strategy for our current job. That involves networking with people who can help you get a new gig, continually seeking out training opportunities to develop new skills and taking on projects that will increase your exposure both inside and outside the company.
Find allies. I can't tell you how many people I've seen at work put all their attention toward their boss, but I've also seen many of these people flame out. The key to success is to put as much effort into your peers as you do to the person who signs your paycheck. Allies can give you ideas, watch your back and provide you a spark of energy when yours is flagging. However allies don't just happen, you've got to create them by doing not-so-random-acts-of-kindness. Think of it as making deposits so that you'll have established goodwill when you need to make a withdrawal.
Maintain perspective. Things at work are seldom as bad, or good, as they seem, yes, this too shall pass. But it's important to keep your cool, especially when everyone else is losing theirs. This requires you to have insight about industry trends and the history of your own company.
Plan B. I remember someone boasting a few years ago that he never took a call from a headhunter or recruiter. Those days are now behind us. You need to stay in circulation and always think about your next opportunity. I'd put a few hours into your next gig on a weekly basis. Really. Reach out to colleagues, explore leads and find excuses to get in touch with people pushing the envelope in your industry.
Mrs. Wolfe's final marriage was to a guy who had been married 29 times. Lucky for all of us that there are easier ways to remain engaged at work.

Bob Rosner is a best-selling author and award-winning journalist. For free job and work advice, check out the award-winning workplace911.com. Check the revised edition of his Wall Street Journal best seller, "The Boss's Survival Guide." If you have a question for Bob, contact him viabob@workplace911.com.
Thought of the Week
"We are all in the gutter, just some of us are looking at the stars."
–Oscar Wilde
Weekly Comic by Jerry King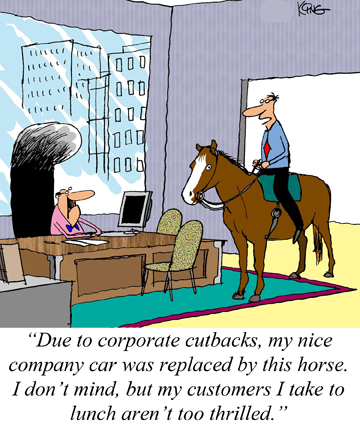 Blog of the Week
Top Five News Headlines
List of the Week
from Harris Interactive
Stressors at Work: Top Sources of Stress
Low wages, 11% (for women it's 14%)
Annoying coworkers, 10%
Commuting, 9%
Workload, 9%
Job outside chosen career, 8%