TT&S Weekly (6/10/19)
Topic of the Week
Sexual Orientation Discrimination
What is sexual orientation discrimination?

How does harassment relate to sexual orientation discrimination?
What is sexual orientation discrimination?
Sexual orientation discrimination means treating someone differently solely because of his or her real or perceived sexual orientation: lesbian, gay (homosexual), bisexual, asexual, pansexual, or straight (heterosexual). This means that discrimination may occur because of others' perception of someone's orientation, whether that perception is correct or not. It may also occur based on an individual's association with someone of a different sexual orientation. Someone who is discriminated against on the basis of sexual orientation may also be discriminated against or harassed on the basis of sex, gender identity, disability (such as actual or perceived HIV status) or marital status.
Examples of sexual orientation discrimination include:
Different treatment: you are not hired, not promoted, disciplined, or fired specifically because your boss thinks you are lesbian, gay, bisexual, or straight etc. This goes beyond simply being yelled at for showing up late. Being overlooked for a promotion, wrongful termination, receiving a write-up with no basis, and other serious negative employment actions may qualify as different treatment. Some companies have policies that explicitly discriminate against lesbian, gay and bisexual employees, while in other companies the discrimination is more subtle but no less real. You may find that you start to be treated differently once you come out as homosexual to coworkers or place a photograph of your same-sex partner on your desk. The discrimination may come from just a few people in the company, from your supervisor, or from the company's CEO.
Harassment: you are forced to experience comments about your mannerisms or sexual activity, sexual jokes, requests for sexual favors, pressure for dates, touching or grabbing, leering, gestures, hostile comments, pictures or drawings negatively portraying a specific sexual orientation, or sexual assault or rape. Your harasser may be an employer, supervisor, co-worker, or customer, and may be of the opposite or same sex.
What if I am being harassed by someone of the same sex or because of my sexual orientation, how does harassment relate to sexual orientation discrimination?

Sexual harassment is a form of sex discrimination that is prohibited by federal law and the laws of most states, regardless of whether the state also has a law against discrimination on the basis of sexual orientation. However, many courts have focused on the differences between the two legal concepts to prevent gay and lesbian employees who have been harassed from having the same legal protections available to non-gay employees who have been subjected to similar comments. These courts have ruled that comments focused on the victim's sexual orientation represent discrimination on that basis, not covered under federal law, instead of sexual harassment, a form of sex discrimination that is covered under federal law. Other courts have ruled that these types of sexual comments, as they relate to gender stereotypes, are a form of illegal sex discrimination under federal law.
Unwelcome sexual advances, requests for sexual favors, and other verbal or physical conduct of a sexual nature is considered sexual harassment, when submission to, or rejection of, this conduct affects your employment, unreasonably interferes with your work performance, or creates an intimidating, hostile or offensive work environment. The U.S. Supreme Court has specifically ruled that the victim does not have to be of the opposite sex to be able to bring a legal claim for sexual harassment.
Sexual harassment can occur in a variety of circumstances:
The harasser can be the victim's supervisor, an agent of the employer, a supervisor in another area, a co-worker, or a non-employee.
The victim does not have to be the person harassed but could be anyone affected by the offensive conduct.
Unlawful sexual harassment may occur without economic harm to the victim, such as loss of a job.
The harasser's conduct must be unwelcome.
If you are being sexually harassed, you should directly inform the harasser that the conduct is unwelcome and must stop. If you are a union member, it may also be helpful to contact a union civil rights committee for appropriate action. You should use any employer complaint mechanism or grievance system available, as your employer is under a legal obligation to take immediate and appropriate action when an employee complains.
Thought of the Week
"Increase in support for transgender rights tracks fairly closely with the large increase in support for gay, lesbian and bisexual Americans, having a close relationship with someone transgender is strongly correlated with holding more supportive views of transgender rights. "
–Robert P. Jones, the CEO of the Public Religion Research Institute.
Weekly Comic by Jerry King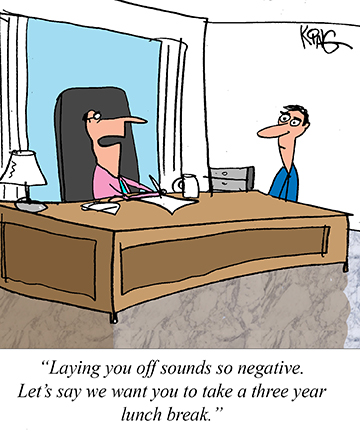 Blog of the Week
Top Five News Headlines
List of the Week
from