TT&S Weekly (11/12/13)
Topic of the Week
Rising from the Ashes: New Workplace Realities
DO keep your spirits high.
DO eat humble pie.
DO accept you'll work longer.
DON'T withdraw.
Rising from the Ashes: New Workplace Realities
It's tough to remain upbeat as the economy continues to sputter. Sure the unemployment rate is dropping but jobs still seem elusive. But we've all got to work to maintain a positive attitude. Which reminds us of a mother who was arrested in Indiana for drunk driving with her toddler in the car. When the police called relatives to take her son home, each family member that drove to the police station had been drinking. Her husband and both grandparents arrived sloshed.
Sound familiar? From AIG, Lehman Brothers, Wachovia Bank, Washington Mutual, etc. business leaders were mostly drunk on greed and willing to drive their companies into the ditch. Unfortunately a bailout for each of us probably isn't on the horizon, so we've got to find a way to drive ourselves where we need to go. I've included three Do's and one Don't for surviving a tough economy. For more, check out workplace911.com, chock full of free information.
DO keep your spirits high. The last thing you can afford is to become dispirited. Think about it, would you hire someone who looks depleted and defeated? That's why I'm a big believer in endorphins. Learn how to use exercise, hobbies, friends and family to keep your spirits up. Positive addictions.
DO eat humble pie. Let's face it, most of us have had careers that resemble an up escalator, with increasing job titles, responsibilities and pay. These days we might have to take a job that is a step backwards. I heard of one guy who had a six-figure income who refused to even apply for a job paying half of that. Today it makes sense to be willing to take a step back, if for no other reason that to pay your bills.
DO accept you'll work longer. If you're like me, you've still not totally caught up to where you were pre-recession. So we're all going to have to just buck up and work longer. Since retirement is now further up the road for most of us, this is a good time to ask yourself if there is a more satisfying way to spend your 9 to 5. Maybe it's time to pursue a hobby, change fields or network with friends outside of your industry. If you're going to work longer, you might as well enjoy it.
DON'T withdraw. I understand that there are times when you just want to lie in bed in the fetal position eating bon-bons. Avoid this temptation. Volunteer, it's a great way to contribute and to keep interacting with other people. Or form a support group of other people in your same predicament. You'll be surprised at how far a little support can go. It also helps to share leads and experiences so that you can learn from each other.
Back to that inebriated family. Sure, alcohol is one way to cope during tough times. But you need to resist this temptation because you've got to keep sober and looking out for opportunities.

Bob Rosner is a best-selling author and award-winning journalist. For free job and work advice, check out the award-winning workplace911.com. Check the revised edition of his Wall Street Journal best seller, "The Boss's Survival Guide." If you have a question for Bob, contact him via bob@workplace911.com.

Thought of the Week
"Tough times don't last, tough people do, remember."
–Gregory Peck
Weekly Comic by Jerry King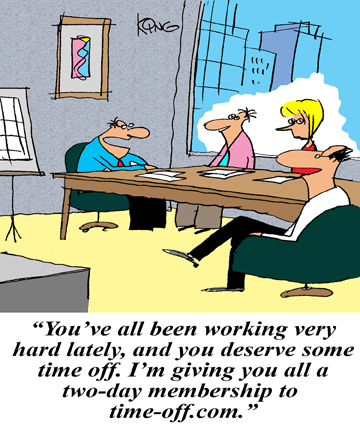 Blog of the Week
Top Five News Headlines
List of the Week
from