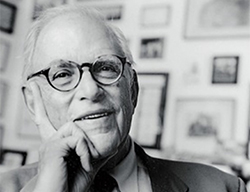 Paul Tobias is one of the law firm's founders. He and Marvin Kraus, his childhood friend from the Cincinnati neighborhood of Walnut Hills, founded Tobias & Kraus in 1976.
Mr. Tobias is a graduate of Harvard College (AB 1951) and Harvard Law School (LLB 1958). He specialized in labor and employment law for more than 50 years, having represented companies, unions, and individuals. He specialized in advising and litigating for individuals including wrongful dismissal and discrimination cases. He is the author of ten published articles in the field of labor and employment law, and has made over 150 presentations to Bar Association and other groups concerning employee rights.
Mr. Tobias is the founder of National Employment Lawyers Association (NELA) (Advocates for Employee Rights) and served as its first Executive Director, Chairman and Editor of the newsletter The Employee Advocate. He is Co-Founder and was Chair of Workplace Fairness (formerly National Employee Rights Institute). He is the author of a three volume work: Litigating Wrongful Discharge Claims (Callaghan/West 1987).
Mr. Tobias is co-author of Job Rights and Survival Strategies - A Handbook for Terminated Employees (Workplace Fairness 1997). He was executive producer for Workplace Fairness of Federal Employees Legal Survival Guide (Authors Passman & Kaplan law firm)(1999). He was Editor-in-Chief of Workplace Fairness' Employee Rights Quarterly (Aspen Publishers July 2000 first issue).
After a wonderful career of more than 50 years of practicing law, Mr. Tobias is now retired.