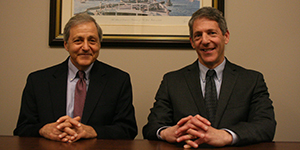 Tobias, Torchia & Simon is an employment law firm founded in 1976. Attorneys Dave Torchia and Steve Simon practice exclusively in the area of employment law, representing only employees. We do not represent employers.
Dave and Steve have more than 60 combined years of legal experience. The firm concentrates on a broad range of employment disputes. We have successfully assisted employees in the following matters:
Age Discrimination
Americans With Disabilities Act
Employee Benefits
Breach of Contract
Defamation
Fair Labor Standards Act
Family and Medical Leave Act
First Amendment Violations
Gender Discrimination
Intentional Infliction of Emotional Distress
Tortious Interference With Employment
Non-Compete Agreements
Pregnancy Discrimination
Race Discrimination
Retaliation
Severance Agreements
Sexual Harassment
Wrongful Termination
To request a consultation, please call us today at (513) 241-8137, or use the form to your right to send us an email message.