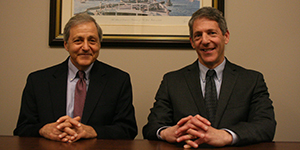 Tobias, Torchia & Simon is an employment law firm representing individual employees. The firm is located in downtown Cincinnati adjacent to historic Fountain Square. Founded in 1976 by Paul Tobias and Marvin Kraus, the firm offers 90 combined years of legal expertise in the field of employment law. The firm is dedicated to advancing employee rights in Greater Cincinnati and throughout the nation.
Focus and experience are among our firm's strengths. Our attorneys practice exclusively in the area of employment law, representing only plaintiffs (employees). Attorneys Paul Tobias, David Torchia, and Steve Simon have been recognized as Super Lawyers a combined 24 times.
Tobias, Torchia & Simon's attorneys concentrate on a broad range of employment disputes. We have successfully assisted employees in the following matters:
Age Discrimination
Americans With Disabilities Act
Employee Benefits
Breach of Contract
Defamation
Fair Labor Standards Act
Family and Medical Leave Act
First Amendment Violations
Gender Discrimination
Intentional Infliction of Emotional Distress
Tortious Interference With Employment
Non-Compete Agreements
Pregnancy Discrimination
Race Discrimination
Retaliation
Severance Agreements
Sexual Harassment
Wrongful Termination
To request a consultation, please call us today at (513) 241-8137, or use the form to your right to send us an email message.